Instructor Training Referral Program
Earn £48 for every new Powerhoop instructor you refer
Powerhoop partners are eligible for an affiliate account at the Hooping Academy. Here's how it works:
• You promote Powerhoop instructor training in your newsletter, blog, website or social media pages, with your personal web link and the graphic at right
• Anyone who uses your affilate link with a built-in coupon saves 10% (about £32) on online instructor training, and you receive 20% of their purchase price excluding VAT (about £48).
• There are no hidden costs or obligations.
Here's how to apply for your account:
• Create a free account at the Hooping Academy, and then send an email to support@powerhoop.com letting us know you are interested in an affiliate account.
• In 2-5 business days you will receive an email confirming your affiliate account, with instructions for using your code
​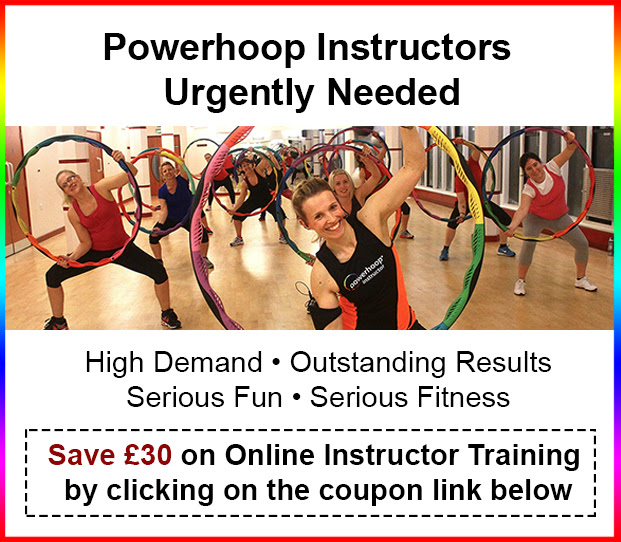 Promote your personal link on your social media pages, along with the above poster (right-click to save image, or download it here).
Terms, Conditions and Frequently Asked Questions
Are there any costs involved in becoming a Hooping Academy Affiliate?
There are no costs or obligations - the account is free. Our courses get great reviews, so you can feel confident about introducing your friends to the world's most popular fitness hoop workout.
How much will you be paid?
In the current promotion, referred students receive a 10% discount (about £30) and affiliates receive 20% of their purchase price (about £45).
How does Teachable handle multiple affiliate attribution (i.e. two referrers for the same student)?
A "cookie" is created when a user clicks an affiliate link, regardless of whether or not they purchase the course. This cookie is valid for the "cookie period" of 365 days, or until the user's browser cache is cleared.
If someone clicks an affiliate's link, leaves the site, and returns to purchase later—the sale may still be counted towards the affiliate. This is on the condition that the user is on the same device and browser, has not cleared their cache, and is within the cookie period. If there are multiple affiliates that are marketing to the same student, the attribution will go to the affiliate that most recently marketed towards the student (i.e. "last-touch attribution"). This is because cookies can overwrite each other—and a newly created cookie will take precedence.
How do you check your earnings?
Log into your Hooping Academy account, choose any course and then choose "Admin" at the upper right to view your Affiliate Dashboard.
Pay Schedule
Affiliates are paid on the first of each month (or closest business day) for all sales made over 30 days prior to that date, a schedule made necessary by Teachable's 30-day refund policy.
Note: The details of this promotion may change. By signing up as an affiliate you agree to these conditions.